See Our Newest Innovations
We've developed a wide range of auscultation products for clinical, learning, and telehealth systems. Discover our latest arrivals!
Watch Our Products in Action
Seeing is believing. Watch our auscultation products in action to learn how they work and why they're the best in the business.
Our Clinical System enables physicians to amplify and analyze physiological sounds. For medical professionals or students with hearing loss, we offer top-grade solutions through our line of electronic stethoscopes.
Our Learning System is an innovative, holistic approach to auscultation and clinical education. Our goal is to give students the opportunity to practice critical skills in a fun, engaging way by equipping them with the most advanced tools in the industry.
Our Telehealth Systems offer advanced solutions for the highest-fidelity auscultation. Our solutions send and receive patients' physiological sounds, allowing for filtering, recording, and distributing of live heart and lung sounds.
"With 1,200 students a year using them, the SAMs are my most useful tool. They're very dependable and functional."
— DR. BILL BOUDREAUX, ASSISTANT PROFESSOR + MEDICAL EDUCATOR AT UTMB SCHOOL OF MEDICINE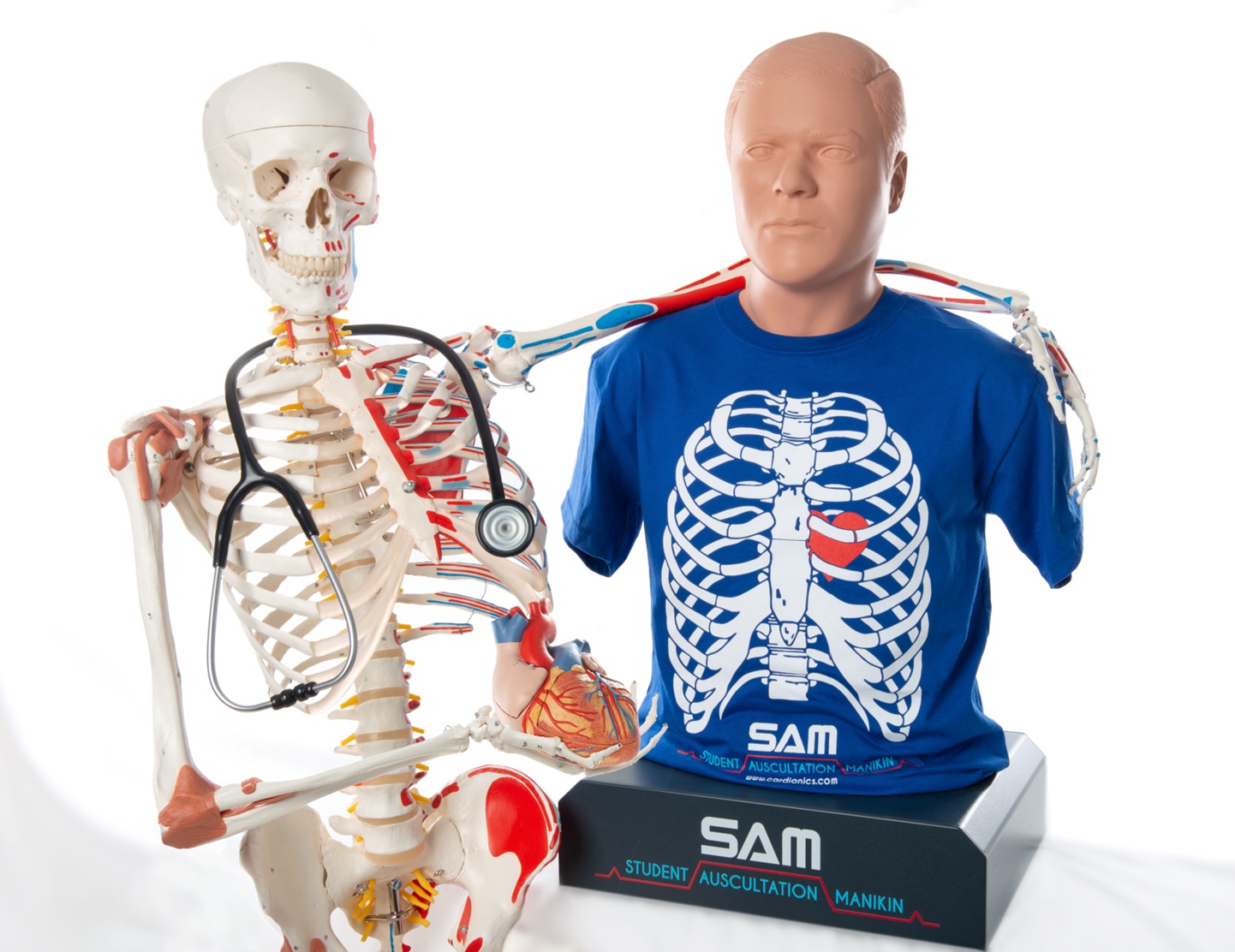 3B Scientific Acquires Cardionics
Big news! On July 17, 2019, 3B Scientific announced its acquisition of Cardionics.
"Cardionics is a perfect addition to 3B Scientific's line of Medical Education and Simulation Products," said Todd Murray, CEO of 3B Scientific.
Our Story
Cardionics was founded by the late Dr. Abe Ravin, M.D., FACC in 1969.
Dr. Ravin was a cardiologist and professor of clinical medicine at the University of Colorado in Denver. Dr. Ravin developed the first heart sound simulator to assist his students in learning to identify and differentiate normal and abnormal cardiac and pulmonary sounds. The American College of Cardiology acknowledged Dr. Ravin's contribution with the distinguished Gifted Teacher Award.
Today and into the future, Cardionics' approach continues to set the pace for auscultation products and services through the development of unique, interactive, and experiential systems that integrate seamlessly into classroom, clinical, and telehealth applications.
Contact Us
➤ Visit
910 Bay Star Blvd.
Webster, Texas 77598 USA
☎ Call
USA: 281-488-5901
Canada: 1-800-364-5901
Fax: 281-488-3195
✉ Email
info@cardionics.com
Want to Learn More?
Got questions? Ready for a quote?
Fill out the form below, and we'll get in touch with you!